"Not only were the prices highly competitive (we approached 2 other companies to compare), we were incredibly grateful to learn that our order for embroidered garments was ready within a 3-working-day turn around."
– Mass Concrete
---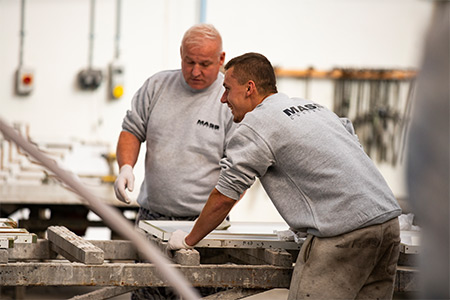 The Client
Mass Concrete has been manufacturing concrete that combines strength with lightness and a silky satin finish for over 20 years. They are widely recognised as leaders in their field by prominent architects and designers alike and have been trusted with many prestigious projects both in the UK and overseas. 
Requirements
Mass Concrete was planning an exciting marketing campaign to show off their brand-new headquarters near Bournemouth Airport which involved flying a drone over and around the site to capture some great video and photos. The team wanted to wear matching clothing branded with the company's name and logo to not only look smart for the photography, but also to help advertise the business.
However, as the day of the shoot approached, the Mass Concrete team got some bad news. Poor weather was forecast for their chosen day which meant shooting had to be moved forward and, as a consequence, the need for the branded workwear became urgent. They approached b4b Workwear with their now urgent request which needed to be fulfilled on a very short timescale. 


The Solution
In response to Mass Concrete's pressing need, the team at b4b Workwear quickly got to work to produce the required personalised jumpers and t-shirts in a light grey to match the colours of the brand.
We also embroidered the Mass Concrete logo onto the front and back of the garments so the drone wouldn't miss the company's name in any of the shots. We did all this in just a 3-day turnaround without compromising on the quality of the garments which meant the client made their drone shoot – and all for a highly competitive price. 
If you need personalised clothing or promotional items to give your business the edge in your competitive market, even if you're on a tight deadline and budget, contact b4b Workwear today on 01202 650123 and we'll be happy to help. 
Images by Matt Livey and Benjamin Hay at Palladian Media.